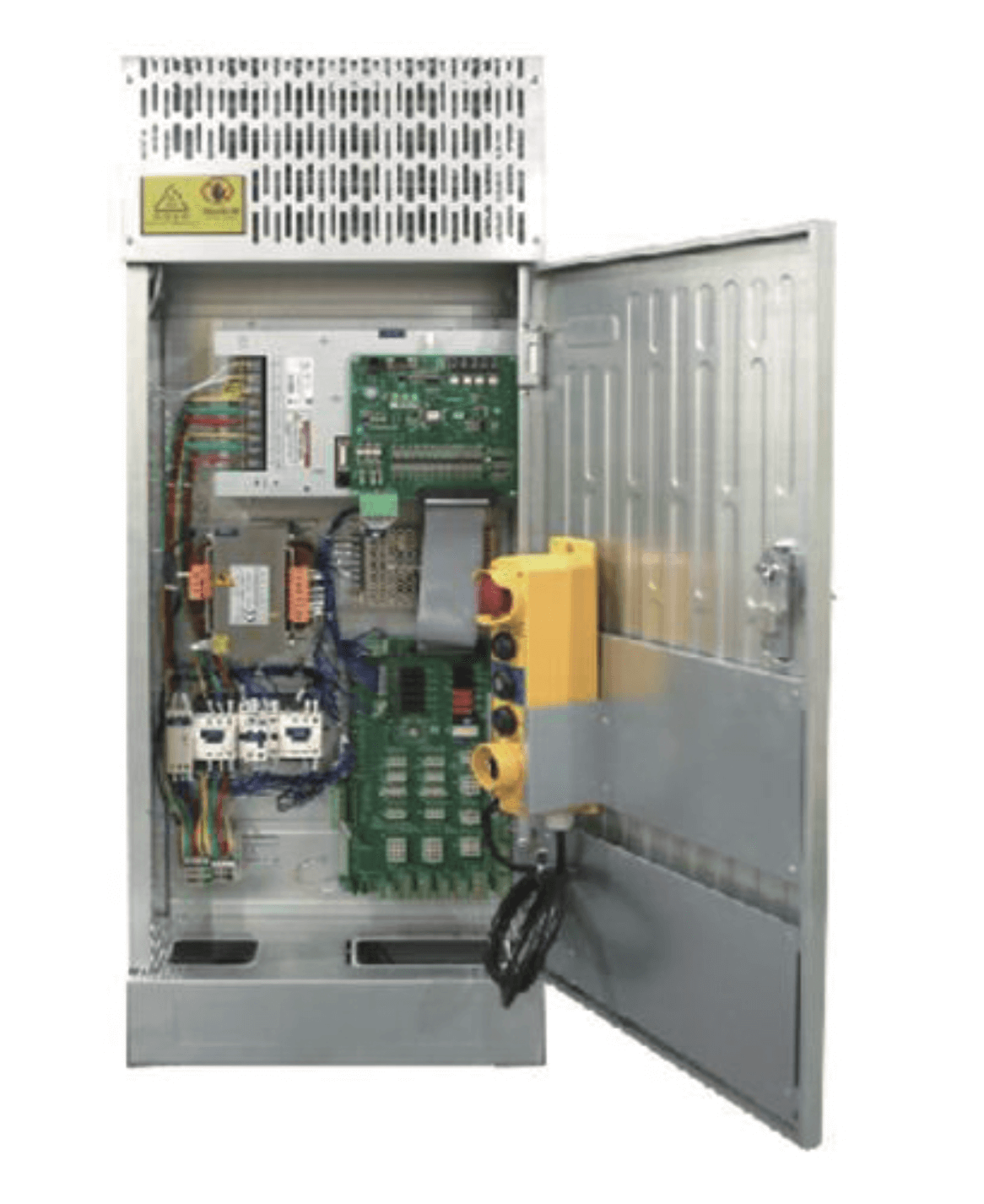 Product Specifications
Besides C6400, this is a another model variation of control cabinet.
The main functions of the control cabinet are: operation control and drive control.
Operation control
1.The call signal input and output processes and answers the call signal and starts the operation.
2.By communicating with passengers via registered signals, when the car arrives on a floor, car and direction of travel information is provided via visual signals of ringing and direction of arrival.
Drive control
1.According to the command information of operation control, it controls the car's start, acceleration (acceleration, speed), running, deceleration (deceleration), leveling, parking and automatic re-leveling.
2.Make sure the car is safe and reliable.
SSPCC70010 (5.5 KW)
SSPCC70013 (5.5 KW)
SSPCC70010 (7.5 KW)
SSPCC70013 (7.5 KW)
SSPCC70010 (11KW)
SSPCC70013 (11 KW)
SSPC70010
(15 KW)
SSPCC70013
(15 KW)
Power Supply:
AC380v-460V, 50/60 Hz, 3 Phase
AC380v-460V, 50/60 Hz, 3 Phase
AC380v-460V, 50/60 Hz, 3 Phase
AC380v-460V, 50/60 Hz, 3 Phase
AC380v-460V, 50/60 Hz, 3 Phase
AC380v-460V, 50/60 Hz, 3 Phase
AC380v-460V, 50/60 Hz, 3 Phase
AC380v-460V, 50/60 Hz, 3 Phase
Power Range:
5.5 KW
5.5 KW
7.5 KW
7.5 KW
11 KW
11 KW
15 KW
15 KW
Rated Speed:
< ±2.5 m/s
< ±2.5 m/s
< ±2.5 m/s
< ±2.5 m/s
< ±2.5 m/s
< ±2.5 m/s
< ±2.5 m/s
< ±2.5 m/s
Control Method:
Simple/Duplex
Simple/Duplex
Simple/Duplex
Simple/Duplex
Simple/Duplex
Simple/Duplex
Simple/Duplex
Simple/Duplex
Main Controller:
STEP iAStar AS380
STEP iAStar AS380
STEP iAStar AS380
STEP iAStar AS380
STEP iAStar AS380
STEP iAStar AS380
STEP iAStar AS380
STEP iAStar AS380
Intercom:
Five-Party
Five-Party
Five-Party
Five-Party
Five-Party
Five-Party
Five-Party
Five-Party
Dimensions: (mm)
1184x420x200
1184x420x200
1184x420x200
1184x420x200
1184x420x200
1184x420x200
1184x420x200
1184x420x200
Installation:
Wall/Full Mounted
Wall/Full Mounted
Wall/Full Mounted
Wall/Full Mounted
Wall/Full Mounted
Wall/Full Mounted
Wall/Full Mounted
Wall/Full Mounted